Ahualoa Farms Honey
00177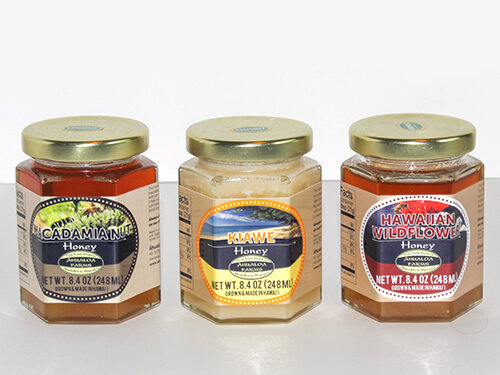 We have partnered with an amazing Big Island beekeeper who was looking for someone to sell his scrumptious honeys to! Use honey to sweeten your beverages: use on pancakes, french toast, oatmeal, rice pudding or as a glaze for ham or pork, to name a few. Choose from 3 different varieties. All honey is unheated and raw. ( Be sure to choose your desired flavor)
Flavors to choose from:
Macadamia Nut Honey $10.00 - This dark amber-colored honey is harvested from the macadamia blossom on the Big Island. It has a rich texture, delicately floral and mild nutty taste.
Hawaiian Wild Flower Honey $10.00 - This honey is collected from the Big Island, which has four distinct climate zones - from lush wet tropical on its northeastern coast to polar tundra conditions at its volcanic peaks. With that variety of plant life in a small area (about 2,000 types of flowering plants alone), that means a honey that's complex in flavor, with light tropical flavors and rich mellow, toasty warmth.
Kiawe Honey $15.00 - This honey is gathered from a Kiawe forest on the Big Island of Hawaii. Since the land is like a desert, no other vegetation has been able to grow, allowing the bees to collect only Kiawe nectar. For the beekeeper, gathering Kiawe honey is a painstaking process since it requires precise timing. If collected too soon it won't be ripe, collected too late and it crystallizes in the comb. This honey is very creamy with a rich, tropical flavor.
Choose Flavor
Macadamia Nut Honey (0) Hawaiian Wild Flower Honey (0) Kiawe Honey (5)