Hawaiian Macadamia Nut Pancake Mixes
00126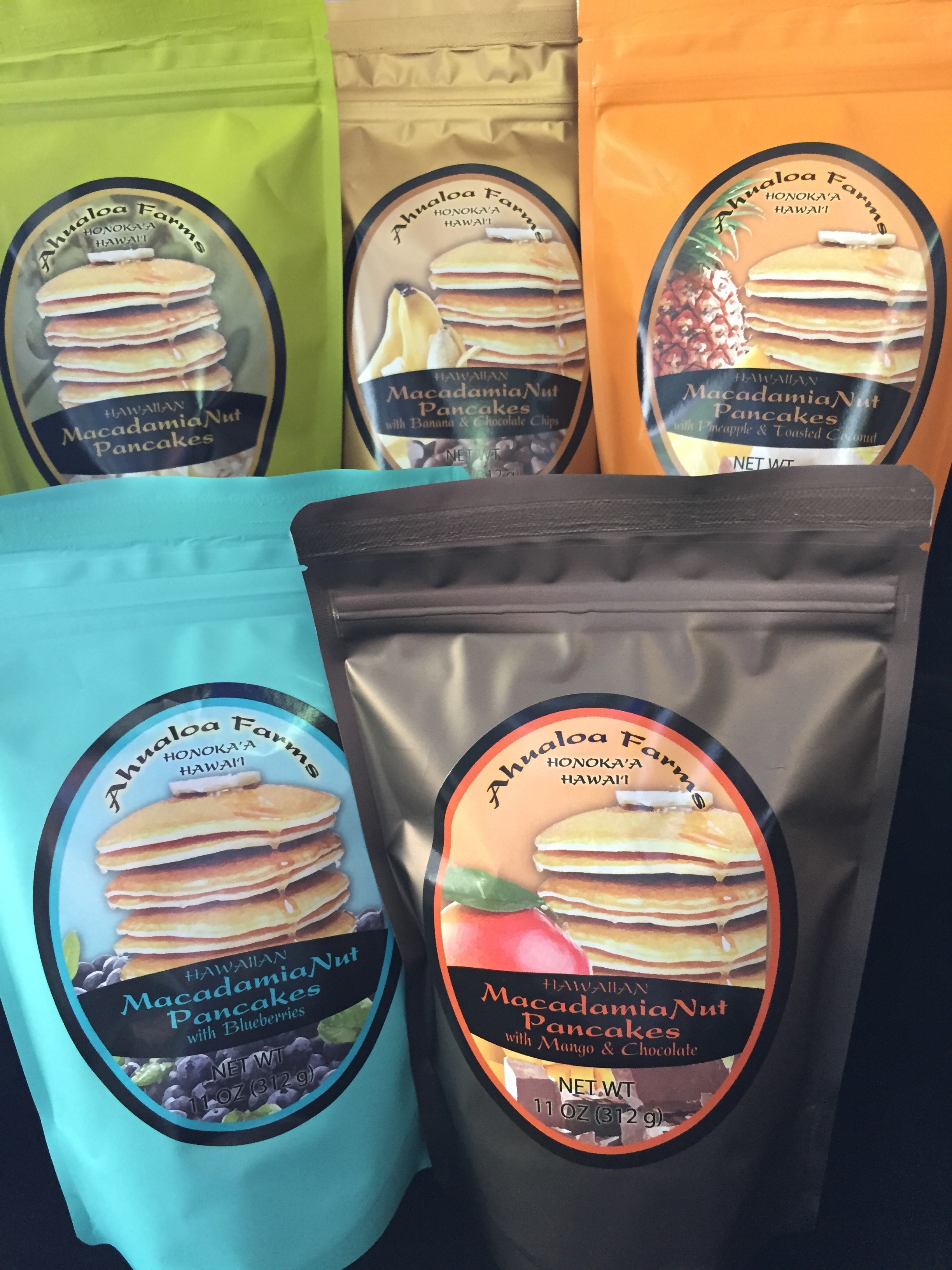 We are making our own pancake mixes in 5 delicious flavors! We use real fruit and our farm fresh Hawaiian grown macadamia nuts. Try a favorite fruit flavored one, or try all of them and see which one is YOUR favorite! No matter which one(s) you decide on, they are all melt in your mouth scrumptious! 11 oz bags yield 8 to 10 4" pancakes. (Be sure to choose your flavor)

Hawaiian Macadamia Nut Pancakes with Bananas & Chocolate Chips
INGREDIENTS: Enriched bleached flour (wheat flour, niacin, reduced iron, thiamin monomitrate, riboflavin, folic acid, may contain malted barley flour), sugar, dextrose, leavening (sodium bicarbonate, sodium aluminum phosphate, monocalcium phosphate), soy flour, canola or soybean oil, salt, buttermilk, food starch-modified, sodium stearoylactylate, Hawaiian Macadamia Nuts, Freeze Dried Banana Powder, Semi-Sweet Chocolate Chips (sugar, chocloate liquor, cocoa butter, dextrose, soy lecithin (added as an emulsifier), and vanillin (an artificail flavoring))

Hawaiian Macadamia Nut Pancakes with Blueberries
INGREDIENTS: Enriched bleached flour (wheat flour, niacin, reduced iron, thiamin monomitrate, riboflavin, folic acid, may contain malted barley flour), sugar, dextrose, leavening (sodium bicarbonate, sodium aluminum phosphate, monocalcium phosphate), soy flour, canola or soybean oil, salt, buttermilk, food starch-modified, sodium stearoylactylate, Hawaiian Macadamia Nuts, Freeze Dried Whole Blueberries


Hawaiian Macadamia Nut Pancakes (Out of Stock)
INGREDIENTS: Enriched bleached flour (wheat flour, niacin, reduced iron, thiamin monomitrate, riboflavin, folic acid, may contain malted barley flour), sugar, dextrose, leavening (sodium bicarbonate, sodium aluminum phosphate, monocalcium phosphate), soy flour, canola or soybean oil, salt, buttermilk, food starch-modified, sodium stearoylactylate, Hawaiian Macadamia Nuts

Hawaiian Macadamia Nut Pancakes with Pineapple & Toasted Coconut
INGREDIENTS: Enriched bleached flour (wheat flour, niacin, reduced iron, thiamin monomitrate, riboflavin, folic acid, may contain malted barley flour), sugar, dextrose, leavening (sodium bicarbonate, sodium aluminum phosphate, monocalcium phosphate), soy flour, canola or soybean oil, salt, buttermilk, food starch-modified, sodium stearoylactylate, Hawaiian Macadamia Nuts, Freeze Dried Pineapple Powder, and Unsweetened Flaked Coconut
Hawaiian Macadamia Nut Pancakes with Mango & Chocolate
Ingredients: Enriched bleached flour (wheat flour, niacin, reduced iron, thiamin monomitrate, riboflavin, folic acid, may contain malted barley flour), sugar, dextrose, leavening (sodium bicarbonate, sodium aluminum phosphate, monocalcium phosphate), soy flour, canola or soybean oil, salt, buttermilk, food starch-modified, sodium stearoylactylate, Hawaiian Macadamia Nuts, Freeze Dried Mango Powder, Cacao, Maui Cane Sugar.

*All mixes contain wheat, soy, milk and tree nuts. Made on equipment that makes products containing eggs and tree nuts.
Choose Your Flavor
Hawaiian Macadamia Nut Pancakes with Bananas & Chocolate Chips (0) Hawaiian Macadamia Nut Pancakes with Blueberries (0) Hawaiian Macadamia Nut Pancakes with Pineapple & Toasted Coconut (0) Hawaiian Macadamia Nut Pancakes with Mango & Chocolate (0)